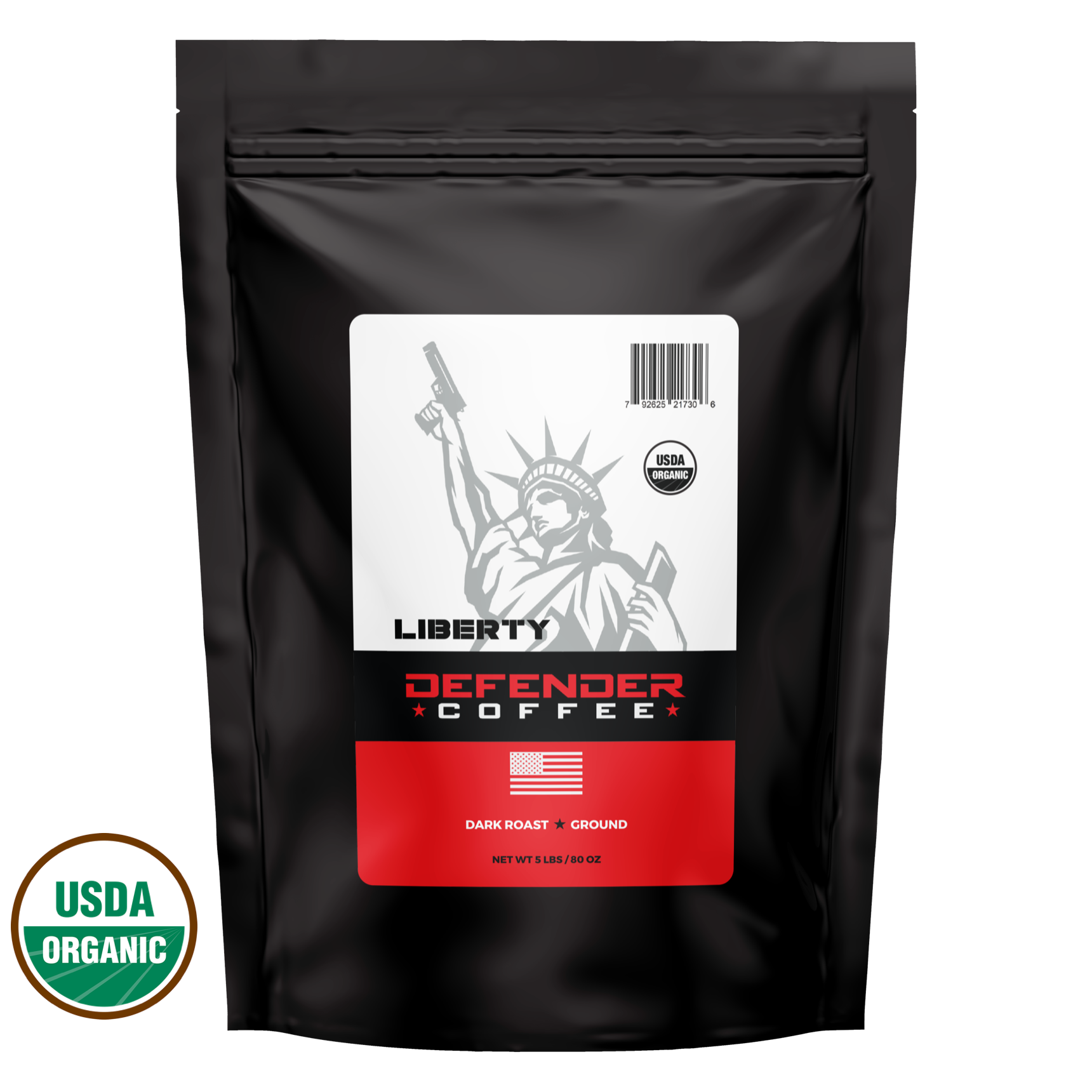 LIBERTY ROAST - 5 LB BAG [D]
SAVE 30% WHEN COMPARED TO BUYING 5 LBS IN 12 OZ BAGS!
Benjamin Franklin once said "Those who would give up essential liberty, to purchase a little temporary safety, deserve neither liberty nor safety." We couldn't agree more, so brew a cup of Liberty Roast and savor every freedom defending sip. This robust, organic dark roast has tasting notes of dark chocolate, oak and cocoa.
Origin: Honduras, Mexico, Ethiopia.
Elevation: 1300-1800 meters high.
Bean Type: Catuai, Caturra, Typica, Bourbon, Pacamara, Pacas, Kent.
Process: Fully washed & natural.
Roast: Dark.
DISCLAIMER: According to the National Institute on Drug Abuse, besides death, a severe caffeine overdose can cause fast and erratic heartbeats, seizures, vomiting, diarrhea, and disorientation.
Best dark roast out there. Period.
Liberty roast is by far the best dark roast I've ever tasted. I didn't even know I was drinking crap coffee before switching to Defender. I mean jeez, how do you guys make the coffee so much better than other brands? I was a coffee club member of BRCC for a long time until they shit on Kyle Rittenhouse. Glad they did or I wouldn't have discovered a truly pro-gun coffee company. Can't wait to try the other Defender roasts. Signing up for monthly shipments of Liberty roast so I never run out. I'd hate to have to drink subpar coffee ever again. Good job Defender. You got a customer for life.
Shall not be infringed!
LIBERTY ROAST - 5 LB
Ordering 5lb bags for a few years now. Extremely convenient to refill the coffee jar and not have to worry about ordering more after a refill or two. The automatic reorder is awesome. Got it dialed in to about a week prior to my last pot. Liberty roast is a fantastic middle of the line roast. Perfectly blended to give you a little bit of everything you want in a cup or two when starting the out the day. NEW - Defender now has a rewards program to earn cash back. As a customer it makes me feel good my business is appreciated. Thanks Defender!
response
Is Peter Langoni II joking?
I'm a liberal
Take me off your email list and support passing reasonable and responsible gun control legislation.
Great stuff
Love the coffee flavor from this one. It's a strong coffee with great flavor.