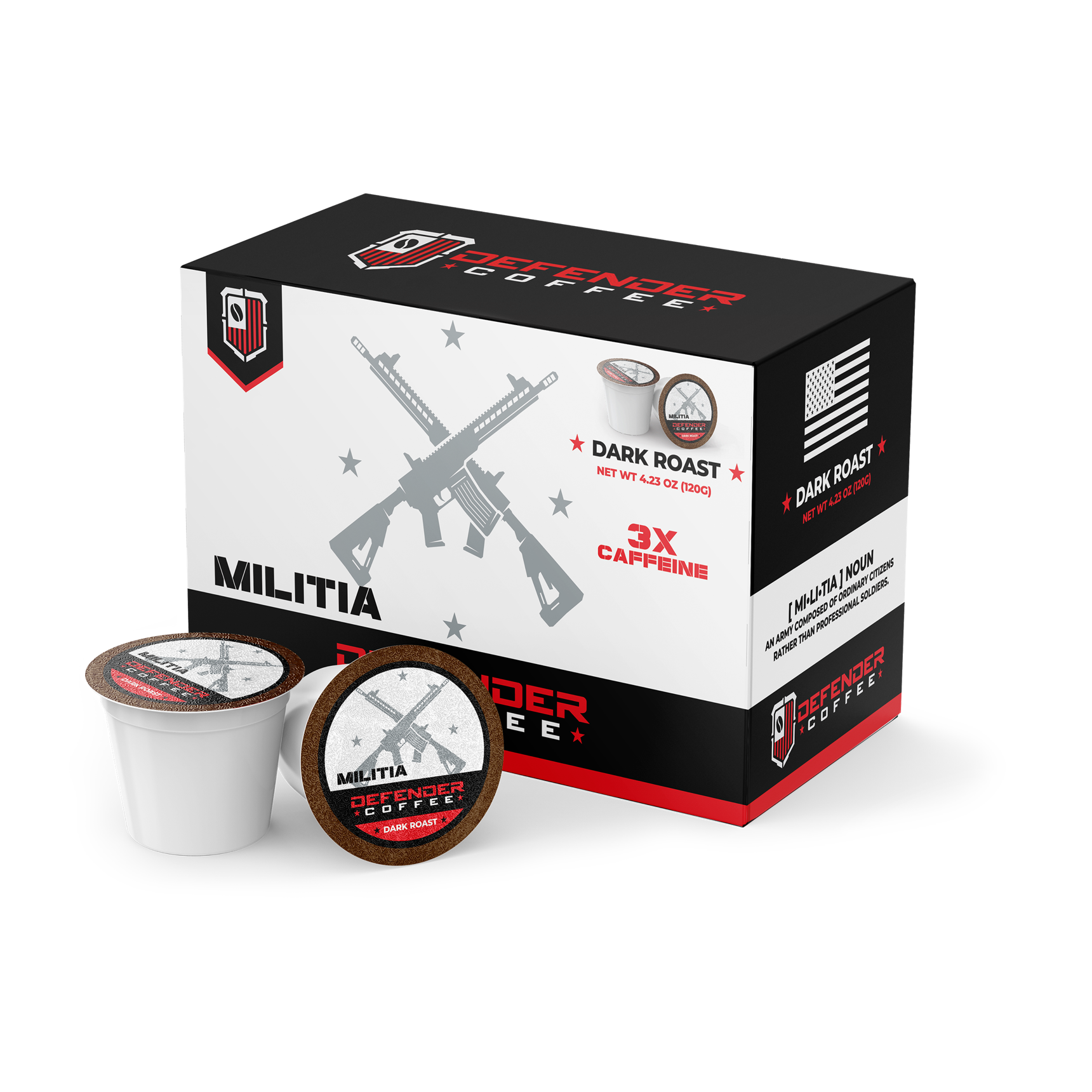 MILITIA ROAST COFFEE PODS [3X CAFFEINE] [D]
During the American Revolutionary War, the Militia was partially comprised of civilian colonists called Minutemen. Known for being ready to fight at a minute's notice, these patriots could have used a cup of Militia Roast. Loaded with triple the caffeine, this dark roast is heavy and sweet with tasting notes of gunpowder and freedom.
This box includes 12 single-serve coffee pods that are Keurig 2.0 and 1.0 compatible.
Origin: Colombia, Nicaragua, Brazil.
Altitude: 1300-1800 meters high.
Bean Type: Catuai, Caturra, Maracaturra, Bourbon, Pacamara, Kent.
Process: Fully washed & natural.
Roast: Dark.
DISCLAIMER: According to the National Institute on Drug Abuse, besides death, a severe caffeine overdose can cause fast and erratic heartbeats, seizures, vomiting, diarrhea, and disorientation.
The BEST
I love this one i went from drinking 5-6 cups of coffee to drinking maybe 2-3 cups tops its so good and keeps me going
Fell in love
This is my NEW GOTO NOW. I was drinking BRCC AND store brand coffee pod. Now nothing compares to this coffee. And i love love love this coffee i recomend this coffee to everyone i know as well.
Fell in love
I got 1 box of cups to try it out and see how good it was. Well after the first cup i was hooked. I dont buy the others just this Militia Roast. Trust me try it and you wont be disappointed!!!